Death of a President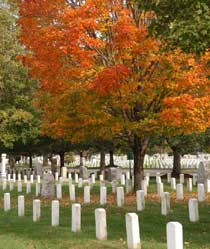 An autumnal view of Arlington Cemetery, Virginia, America's largest and best-known national burial grounds. More than 260,000 people are buried at Arlington Cemetery, including veterans from all the nation's wars.
(PhotoSpin, Inc.)
John Kennedy had gained world prestige by his management of the Cuban missile crisis and had won great popularity at home. Many believed he would win re-election easily in 1964. But on November 22, 1963, he was assassinated while riding in an open car during a visit to Dallas, Texas. His death, amplified by television coverage, was a traumatic event, just as Roosevelt's had been 18 years earlier.
In retrospect, it is clear that Kennedy's reputation stems more from his style and eloquently stated ideals than from the implementation of his policies. He had laid out an impressive agenda but at his death much remained blocked in Congress. It was largely because of the political skill and legislative victories of his successor that Kennedy would be seen as a force for progressive change.