Next:
Head wrapping
Up:
Head-corner Parsing
Previous:
Overview
In formalisms such as PATR II the string associated with a derivation is the sequence of terminal nodes of the corresponding derivation tree in left-to-right order. For example, the sentence


may be analyzed in some PATR grammar in a way that gives rise to the derivation tree in figure 4.1.
In sign-based approaches such as in UCG and HPSG the string is part of an attribute of each feature structure (sign). The attribute is usually called `phon', `string', `graph' or `orth' (I will use `phon' in the following). Hence, the string associated with a construction is simply the value of the `phon' feature of the sign that is assigned to the construction. In UCG there is a condition, called `adjacency', which says that signs can combine only if they are adjacent. In other words, the value of the `string' feature of a mother node in a parse tree is always the concatenation of the `string' features of the daughter nodes. Hence, the UCG parse tree for the foregoing example presumably would be something like figure 4.2.
Figure 4.2: Possible UCG parse tree, restricted to the value of the `phon' attribute, for the sentence `Kim is easy to please'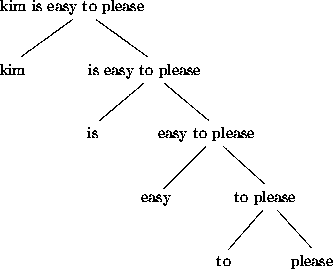 The two approaches are formally equivalent, but the second approach has the advantage that it at least becomes easier to think of other `modes' of combination of the value of the `phon' attribute. As an example consider


Suppose that there is linguistic motivation that in this sentence, as in sentence 1, the sequence `easy to please' should be regarded as a (discontinuous) constituent. Such an analysis cannot be defined directly in PATR or UCG. If no adjacency condition applied we could have a parse tree of `easy person to please' as in figure 4.3.
Figure 4.3: Hypothetical parse-tree (restricted to phonological information), for a discontinuous analysis of the sentence `An easy person to please'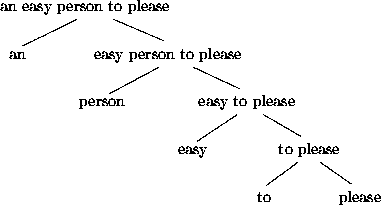 In the next subsections I describe some proposals which allow such a direct implementation of discontinuous constituents.
---
---




Next:
Head wrapping
Up:
Head-corner Parsing
Previous:
Overview
Noord G.J.M. van
1998-09-30