Next: Spurious ambiguity Up: Head-driven parsing for TAGs Previous: Adjunction.


In order to check what string a given derived tree dominates, we could define the relation `yield' which - procedurally speaking - travels a tree in a top-down fashion and collects the terminal symbols at the leaves of the tree. However, note that TAG derivations exhibit a monotonicity property with respect to the order of words. Once a certain order has been established, this order cannot be changed anymore. For this reason, all trees which are derived during a derivation yield a string which is a subsequence of the string to be parsed. For that reason an important reduction of the search space can be obtained by checking whether an hypothesized derived tree indeed yields a subsequence of the string to be parsed. Furthermore, such a check then also implies that it is not necessary anymore, to check whether the topmost derived tree yields the desired string: this is necessarily the case, because a topmost derived tree has used all words in the input and furthermore yields a subsequence.

The following predicates are obtained. Note that we now assume an extra argument position through which we percolate the input string. The predicate

will be modified later.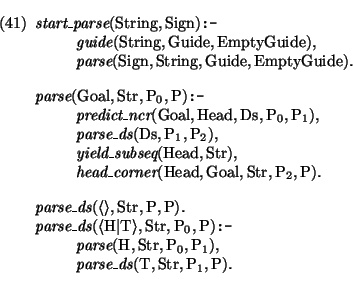 The predicate

straightforwardly checks whether the first argument, a tree, yields a subsequence of the second argument, a string.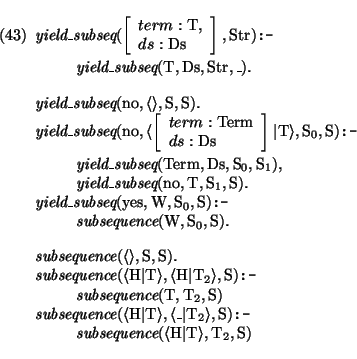 ---




Next:
Spurious ambiguity
Up:
Head-driven parsing for TAGs
Previous:
Adjunction.
Noord G.J.M. van
1998-09-30