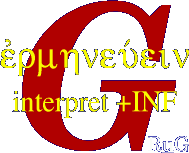 Welcome to the Glosser-Rug Homepage
Glosser-RuG aims at facilitating the reading of French text for native Dutch speakers. To support users, an on-line dictionary, morphological analysis and examples of word use in especially collected corpora are provided. The electronic dictionary is provided by Van Dale Lexicografie, morphological analysis software is provided by Xerox Research Centre Europe (formerly Rank Xerox, Grenoble).

The project is set within the framework of GLOSSER and funded by COPERNICUS grant 343. GLOSSER aims at applying state-of-the-art linguistic technology to Computer-Assisted Language Learning. The research for Glosser-RuG takes place at the department of Alfa-Informatica (Humanities Computing), Faculty of Arts at the University of Groningen.
A demonstration: Glosser-WeB
Glosser-WeB is an on-line demo version of Glosser-RuG. This version does not offer all the functionality the UNIX version does, but still gives a good idea of what it is like to use the application. You need Netscape 4 or Internet Explorer 4, with support for JavaScript to run this demo. Try it . . .
Start Glosser-WeB
The logo
The Glosser Logo includes a Greek word which might by glossed as to interpret, or interpret +INF, a foreign-language user's shortcut for interpret in infinitive form.
WELLS
A project related to Glosser-RuG is WELLS: Web-Enhanced Language Learning.
Technical reports and other publications
Some of this material is still under consideration.
See also: Alfa-Informatica Papers.
FTP
Our Glosser FTP site has material like indexed bilingual texts, indexfiles for English texts, and also the final report and deliverables of the project.
---
If you would like to contact us, please write to John Nerbonne <nerbonne@let.rug.nl>.