A Biography of Alexander Hamilton (1755-1804)
"I wish there was a war"
Hamilton's wistful words in a letter to a friend in 1769 seem in retrospect an invocation. What better way was there for a young man to change his station in life than in war, where ultimately, it is one's abilities rather than one's background that determines success or failure?
When armed hostilities broke out at Lexington and Concord in April of 1775, Hamilton and some of his college friends formed a drilling company. In the summer of 1776, as the British fleet sailed toward New York harbor, Hamilton responded to a call for recruits, and after assiduously studying the science of artillery, was appointed Captain of the Provincial Company of Artillery. Hamilton was a strict disciplinarian but just as fiercely fought with the New York assembly for decent pay and supplies for his men, and even exhausted his own savings to pay for their uniforms.
The professionalism of the New York artillery company and its commander impressed all the senior officers who had dealings with it, including Henry Knox, artillery commander of the Continental army. Hamilton and his company fought with Washington's army at Long Island in August of 1776, followed him on campaign to White Plains, and took part in the Delaware river crossing to participate in the victories at Trenton and Princeton that closed out the heady year of 1776.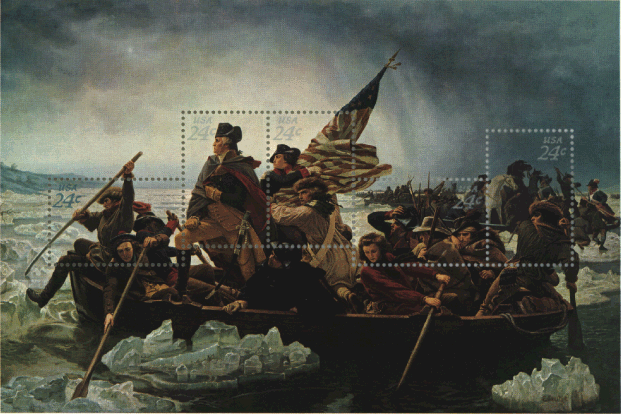 The Crossing of the Delaware
All the while that the little New York artillery company was with Washington, Hamilton was making an indelible impression on the General. His efficiency, intelligence, and natural air of authority made him a prime candidate for staff officer. Washington, who was building up his personal staff as administrative details became ever more cumbersome, offered Hamilton the position of aide-de-camp with the rank of Lieutenant Colonel. The primary qualification, as Washington himself explained, was to be able to "think for me, as well as execute orders." Hamilton, he felt, fit the description perfectly. Hamilton had earlier refused similar positions with Knox and General Nathaniel Greene, preferring the independence of his own command. However, he could not turn down such a prestigious position with the commander-in-chief. Hamilton accepted Washington's offer, and took his place at headquarters in early March, 1777.