The Autobiography of Frederick Douglass
A Slaveholder's Character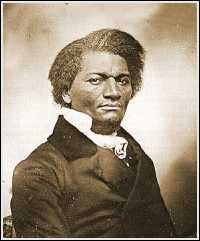 Although my old master, Captain Anthony, gave me, at the first of my coming to him from my grandmother's, very little attention, and although that little was of a remarkably mild and gentle description, a few months only were sufficient to convince me that mildness and gentleness were not the prevailing or governing traits of his character. These excellent qualities were displayed only occasionally. He could, when it suited him, appear to be literally insensible to the claims of humanity. He could not only be deaf to the appeals of the helpless against the aggressor, but he could himself commit outrages deep, dark, and nameless. Yet he was not by nature worse than other men. Had he been brought up in a free state, surrounded by the full restraints of civilized society - restraints which are necessary to the freedom of all its members, alike and equally, Capt. Anthony might have been as humane a man as are members of such society generally. A man's character always takes its hue, more or less, from the form and color of things about him. The slaveholder, as well as the slave, was the victim of the slave system. Under the whole heavens there could be no relation more unfavorable to the development of honorable character than that sustained by the slaveholder to the slave. Reason is imprisoned here and passions run wild. Could the reader have seen Captain Anthony gently leading me by the hand, as he sometimes did, patting me on the head, speaking to me in soft, caressing tones and calling me his little Indian boy, he would have deemed him a kind-hearted old man, and really almost fatherly to the slave boy. But the pleasant moods of a slaveholder are transient and fitful. They neither come often nor remain long. The temper of the old man was subject to special trials, but since these trials were never borne patiently, they added little to his natural stock of patience. Aside from his troubles with his slaves and those of Mr. Lloyd's, he made the impression upon me of being an unhappy man. Even to my child's eye he wore a troubled and at times a haggard aspect. His strange movements excited my curiosity and awakened my compassion. He seldom walked alone without muttering to himself, and he occasionally stormed about as if defying an army of invisible foes. Most of his leisure was spent in walking around, cursing and gesticulating as if possessed by a demon. He was evidently a wretched man, at war with his own soul and all the world around him. To be overheard by the children disturbed him very little. He made no more of our presence than that of the ducks and geese he met on the greed. But when his gestures were most violent, ending with a threatening shake of the head and a sharp snap of his middle finger and thumb, I deemed it wise to keep at a safe distance from him.
One of the first circumstances that opened my eyes to the cruelties and wickedness of slavery and its hardening influences upon my old master, was his refusal to interpose his authority to protect and shield a young woman, a cousin of mine, who had been most cruelly abused and beaten by his overseer in Tuckahoe. This overseer, a Mr. Plummer, was like most of his class, little less than a human brute; and in addition to his general profligacy and repulsive coarseness, he was a miserable drunkard, a man not fit to have the management of a drove of mules. In one of his moments of drunken madness he committed the outrage which brought the young woman in question down to my old master's for protection. The poor girl, on her arrival at our house, presented a most pitiable appearance. She had left in haste and without preparation, and probably without the knowledge of Mr. Plummer. She had traveled twelve miles, bare-footed, bare-necked, and bare-headed. Her neck and shoulders were covered with scars newly made, and not content with marring her neck and shoulders with the cowhide, the cowardly wretch had dealt her a blow on the head with a hickory club, which cut a horrible gash and left her face literally covered with blood. In this condition the poor young woman came down to implore protection at the hands of my old master. I expected to see him boil over with rage at the revolting deed, and to hear him fill the air with curses upon the brutal Plummer; but I was disappointed. He sternly told her in an angry tone, "She deserved every bit of it, and if she did not go home instantly he would himself take the remaining skin from her neck and back." Thus the poor girl was compelled to return without redress, and perhaps to receive an additional flogging for daring to appeal to authority higher than that of the overseer.
I did not at that time understand the philosophy of this treatment of my cousin. I think I now understand it. This treatment was a part of the system, rather than a part of the man. To have encouraged appeals of this kind would have occasioned much loss of time, and leave the overseer powerless to enforce obedience. Nevertheless, when a slave had nerve enough to go straight to his master, with a well-founded complaint against an overseer, though he might be repelled and have even that of which he complained at the time repeated, and though he might be beaten by his master as well as by the overseer, for his temerity, in the end, the policy of complaining was generally vindicated by the relaxed rigor of the overseer's treatment. The latter became more careful and less disposed to use the lash upon such slaves thereafter.
The overseer very naturally disliked to have the ear of the master disturbed by complaints, and either for this reason or because of advice privately given him by his employer, he generally modified the rigor of his rule after complaints of this kind had been made against him. For some cause or other the slaves, no matter how often they were repulsed by their masters, were ever disposed to regard them with less abhorrence than the overseer. And yet these masters would often go beyond their overseers in wanton cruelty. They wielded the lash without any sense of responsibility. They could cripple or kill without fear of consequences. I have seen my old master in a tempest of wrath, full of pride, hatred, jealousy, and revenge, where he seemed a very fiend.
The circumstances which I am about to narrate, and which gave rise to this fearful tempest of passion, were not singular, but very common in our slave-holding community.
The reader will have noticed that among the names of slaves, Esther is mentioned. This was a young woman who possessed that which was ever a curse to the slave girl - namely, personal beauty. She was tall, light-colored, well formed, and made a fine appearance. Esther was courted by "Ned Roberts," the son of a favorite slave of Col. Lloyd, who was as fine-looking a young man as Esther was a woman. Some slave-holders would have been glad to have promoted the marriage of two such persons, but for some reason, Captain Anthony disapproved of their courtship. He strictly ordered her to quit the company of young Roberts, telling her that he would punish her severely if he ever found her again in his company. But it was impossible to keep this couple apart. Meet they would, and meet they did. Had Mr. Anthony been himself a man of honor, his motives in this matter might have appeared more favorably. As it was, they appeared as abhorrent as they were contemptible. It was one of the damning characteristics of slavery, that it robbed its victims of every earthly incentive to a holy life. The fear of God and the hope of heaven were sufficient to sustain many slave women amidst the snares and dangers of their strange lot; but they were ever at the mercy of the power, passion, and caprice of their owners. Slavery provided no means for the honorable perpetuation of the race. Yet despite of this destitution there were many men and women among the slaves who were true and faithful to each other through life.
But to the case in hand. Abhorred and circumvented as he was, Captain Anthony, having the power, was determined on revenge. I happened to see its shocking execution, and shall never forget the scene. It was early in the morning, when all was still, and before any of the family in the house or kitchen had risen. I was, in fact, awakened by the heart-rending shrieks and piteous cries of poor Esther. My sleeping-place was on the dirt floor of a little rough closet which opened into the kitchen, and through the cracks in its unplaned boards I could distinctly see and hear what was going on, without being seen. Esther's wrists were firmly tied, and the twisted rope was fastened to a strong iron staple in a heavy wooden beam above, near the fire-place. Here she stood on a bench, her arms tightly drawn above her head. Her back and shoulders were perfectly bare. Behind her stood old master, with cowhide in hand, pursuing his barbarous work with all manner of harsh, coarse, and tantalizing epithets. He was cruelly deliberate, and protracted the torture as one who was delighted with the agony of his victim. Again and again he drew the hateful scourge through his hand, adjusting it with a view of dealing the most pain-giving blow his strength and skill could inflict. Poor Esther had never before been severely whipped. Her shoulders were plump and tender. Each blow, vigorously laid on, brought screams from her as well as blood. "Have mercy! Oh, mercy!" she cried. "I won't do so no more." But her piercing cries seemed only to increase his fury. The whole scene, with all its attendants, was revolting and shocking to the last degree, and when the motives for the brutal castigation are known, language has no power to convey a just sense of its dreadful criminality. After laying on I dare not say how many stripes, old master untied his suffering victim. When let down she could scarcely stand. From my heart I pitied her, and child as I was, and new to such scenes, the shock was tremendous. I was terrified, hushed, stunned, and bewildered. The scene here described was often repeated, for Edward and Esther continued to meet, notwithstanding all efforts to prevent their meeting.