Geronimo His own story
At the World's Fair
WHEN I was at first asked to attend the St. Louis World's Fair I did not wish to go. Later, when I was told that I would receive good attention and protection, and that the President of the United States said that it would be all right, I consented. I was kept by parties in charge of the Indian Department, who had obtained permission from the President. I stayed in this place for six months. I sold my photographs for twenty-five cents, and was allowed to keep ten cents of this for myself. I also wrote my name for ten, fifteen, or twenty-five cents, as the case might be, and kept all of that money. I often made as much as two dollars a day, and when I returned I had plenty of money -more than I had ever owned before.
Many people in St. Louis invited me to come to their homes, but my keeper always refused. Every Sunday the President of the Fair sent for me to go to a wild west show. I took part in the roping contests before the audience. There were many other Indian tribes there, and strange people of whom I had never heard.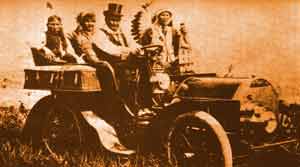 When people first came to the World's Fair they did nothing but parade up and down the streets. When they got tired of this they would visit the shows. There were many strange things in these shows. The Government sent guards with me when I went, and I was not allowed to go anywhere without them.
In one of the shows some strange men with red caps had some peculiar swords, and they seemed to want to fight. Finally their manager told them they might fight each other. They tried to hit each other over the head with these swords, and I expected both to be wounded or perhaps killed, but neither one was harmed. They would be hard people to kill in a hand-to-hand fight.
In another show there was a strange-looking negro. The manager tied his hands fast, then tied him to a chair. He was securely tied, for I looked myself, and I did not think it was possible for him to get away. Then the manager told him to get loose.
He twisted in his chair for a moment, and then stood up; the ropes were still tied but he was free. I do not understand how this was done. It was certainly a miraculous power, because no man could have released himself by his own efforts.
In another place a man was on a platform speaking to the audience; they set a basket by the side of the platform and covered it with red calico; then a woman came and got into the basket, and a man covered the basket again with the calico; then the man who was speaking to the audience took a long sword and ran it through the basket, each way, and then down through the cloth cover. I heard the sword cut through the woman's body, and the manager himself said she was dead; but when the cloth was lifted from the basket she stepped out, smiled, and walked off the stage. I would like to know how she was so quickly healed, and why the wounds did not kill her.
I have never considered bears very intelligent, except in their wild habits, but I had never before seen a white bear. In one of the shows a man had a white bear that was as intelligent as a man. He would do whatever he was told -carry a log on his shoulder, just as a man would; then, when he was told, would put it down again. He did many other things, and seemed to know exactly what his keeper said to him. I am sure that no grizzly bear could be trained to do these things.
One time the guards took me into a little house that had four windows. When we were seated the little house started to move along the ground. Then the guards called my attention to some curious things they had in their pockets. Finally they told me to look out, and when I did so I was scared, for our little house had gone high up in the air, and the people down in the Fair Grounds looked no larger than ants. The men laughed at me for being scared; then they gave me a glass to look through (I often had such glasses which I took from dead officers after battles in Mexico and elsewhere), and I could see rivers, lakes and mountains. But I had never been so high in the air, and I tried to look into the sky. There were no stars, and I could not look at the sun through this glass because the brightness hurt my eyes. Finally I put the glass down, and as they were all laughing at me, I, too, began to laugh. Then they said, "Get out!" and when I looked we were on the street again. After we were safe on the land I watched many of these little houses going up and coming down, but I cannot understand how they travel. They are very curious little houses.
One day we went into another show, and as soon as we were in it, it changed into night. It was real night, for I could feel the damp air; soon it began to thunder, and the lightnings flashed; it was real lightning, too, for it struck just above our heads. I dodged and wanted to run away but I could not tell which way to go in order to get out. The guards motioned me to keep still and so I stayed. In front of us were some strange little people who came out on the platform; then I looked up again and the clouds were all gone, and I could see stars shining. The little people on the platform did not seem in earnest about anything they did; so I only laughed at them. All the people around where we sat seemed to be laughing at me.
We went into another place and the manager took us into a little room that was made like a cage; then everything around us seemed to be moving; soon the air looked blue, then there were black clouds moving with the wind. Pretty soon it was clear outside; then we saw a few thin white clouds; then the clouds grew thicker, and it rained and hailed with thunder and lightning. Then the thunder retreated and a rainbow appeared in the distance; then it became dark, the moon rose and thousands of stars came out. Soon the sun came up, and we got out of the little room. This was a good show, but it was so strange and unnatural that I was glad to be on the streets again.
We went into one place where they made glassware. I had always thought that these things were made by hand, but they are not. The man had a curious little instrument, and whenever he would blow through this into a little blaze the glass would take any shape he wanted it to. I am not sure, but I think that if I had this kind of an instrument I could make whatever I wished. There seems to be a charm about it. But I suppose it is very difficult to get these little instruments, or people would have them. The people in this show were so anxious to buy the things the man made that they kept him so busy he could not sit down all day long. I bought many curious things in there and brought them home with me.
At the end of one of the streets some people were getting into a clumsy canoe, upon a kind of shelf, and sliding down into the water. They seemed to enjoy it, but it looked too fierce for me. If one of these canoes had gone out of its path the people would have been sure to get hurt or killed.
There were some little brown people at the Fair that United States troops captured recently on some islands far away from here.
They did not wear much clothing, and I think that they should not have been allowed to come to the Fair. But they themselves did not seem to know any better. They had some little brass plates, and they tried to play music with these, but I did not think it was music it was only a rattle. However, they danced to this noise and seemed to think they were giving a fine show.
I do not know how true the report was, but I heard that the President sent them to the Fair so that they could learn some manners, and when they went home teach their people how to dress and how to behave.
I am glad I went to the Fair. I saw many interesting things and learned much of the white people. They are a very kind and peaceful people. During all the time I was at the Fair no one tried to harm me in any way. Had this been among the Mexicans I am sure I should have been compelled to defend myself often.
I wish all my people could have attended the Fair.