Geronimo His own story
Removals
While returning from trailing the Government troops we saw two men, a Mexican and a white man, and shot them off their horses. With these two horses we returned and moved our camp. My people were suffering much and it was deemed advisable to go where we could get more provisions. Game was scarce in our range then, and since I had been Tribal Chief I had not asked for rations from the Government, nor did I care to do so, but we did not wish to starve.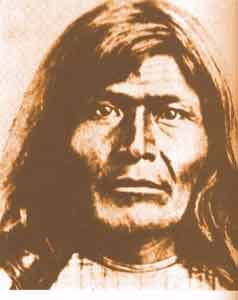 We had heard that Chief Victoria of the Chihenne (Oje Caliente) Apaches was holding a council with the white men near Hot Springs in New Mexico, and that he had plenty of provisions. We had always been on friendly terms with this tribe, and Victoria was especially kind to my people. With the help of the two horses we had captured, to carry our sick with us, we went to Hot Springs. We easily found Victoria and his band, and they gave us supplies for the winter. We stayed with them for about a year, and during this stay we had perfect peace. We had not the least trouble with Mexicans, white men, or Indians. When we had stayed as long as we should, and had again accumulated some supplies, we decided to leave Victoria's band. When I told him that we were going to leave he said that we should have a feast and dance before we separated.
The festivities were held about two miles above Hot Springs, and lasted for four days. There were about four hundred Indians at this celebration. I do not think we ever spent a more pleasant time than upon this occasion. No one ever treated our tribe more kindly than Victoria and his band. We are still proud to say that he and his people were our friends.
When I went to Apache Pass (Fort Bowie) I found General Howard in command, and made a treaty with him. This treaty lasted until long after General Howard had left our country. He always kept his word with us and treated us as brothers. We never had so good a friend among the United States officers as General Howard. We could have lived forever at peace with him. If there is any pure, honest white man in the United States army, that man is General Howard. All the Indians respect him, and even to this day frequently talk of the happy times when General Howard was in command of our Post. After he went away he placed an agent at Apache Pass who issued to us from the Government clothing, rations, and supplies, as General Howard directed. When beef was issued to the Indians I got twelve steers for my tribe, and Cochise got twelve steers for his tribe. Rations were issued about once a month, but if we ran out we only had to ask and we were supplied. Now, as prisoners of war in this Reservation, we do not get such good rations.
Out on the prairie away from Apache Pass a man kept a store and saloon. Some time after General Howard went away a band of outlawed Indians killed this man, and took away many of the supplies from his store. On the very next day after this some Indians at the Post were drunk on "tiswin", which they had made from corn. They fought among themselves and four of them were killed. There had been quarrels and feuds among them for some time, and after this trouble we deemed it impossible to keep the different bands together in peace. Therefore we separated, each leader taking his own band. Some of them went to San Carlos and some to Old Mexico, but I took my tribe back to Hot Springs and rejoined Victoria's band.