The Federal Court System
"... THE JUDICIARY IS THE SAFEGUARD OF OUR LIBERTY AND OF OUR PROPERTY UNDER THE CONSTITUTION."

CHARLES EVANS HUGHES, Chief Justice of the U.S. Supreme Court, 1930-1941
The third branch of the federal government, the judiciary, consists of a system of courts spread throughout the country, headed by the Supreme Court of the United States.
A system of state courts existed before the Constitution was drafted. There was considerable controversy among the delegates to the Constitutional Convention as to whether a federal court system was needed, and whether it should supplant the state courts. As in other matters under debate, a compromise was reached in which the state courts were continued while the Constitution mandated a federal judiciary with limited power. Article III of the Constitution states the basis for the federal court system:
The judicial power of the United States shall be vested in one Supreme Court, and such inferior courts as the Congress may from time to time ordain and establish.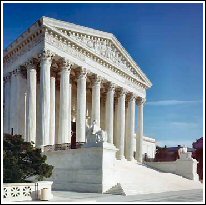 With this guide, the first Congress divided the nation into districts and created federal courts for each district. From that beginning has evolved the present structure: the Supreme Court, 11 courts of appeals, 91 district courts, and three courts of special jurisdiction. Congress today retains the power to create and abolish federal courts, as well as to determine the number of judges in the federal judiciary system. It cannot, however, abolish the Supreme Court.
The judicial power extends to cases arising under the Constitution; laws and treaties of the United States; admiralty and maritime cases; cases affecting ambassadors, ministers and consuls of foreign countries in the United States; controversies in which the U.S. government is a party; and controversies between states (or their citizens) and foreign nations (or their citizens or subjects). The 11th Amendment removed from federal jurisdiction cases in which citizens of one state were the plaintiffs and the government of another state was the defendant. It did not disturb federal jurisdiction in cases in which a state government is a plaintiff and a citizen of another state the defendant.
The power of the federal courts extends both to civil actions for damages and other redress, and to criminal cases arising under federal law. Article III has resulted in a complex set of relationships between state and federal courts. Ordinarily, federal courts do not hear cases arising under the laws of individual states. However, some cases over which federal courts have jurisdiction may also be heard and decided by state courts. Both court systems thus have exclusive jurisdiction in some areas and concurrent jurisdiction in others.
The Constitution safeguards judicial independence by providing that federal judges shall hold office "during good behavior" -- in practice, until they die, retire or resign, although a judge who commits an offense while in office may be impeached in the same way as the president or other officials of the federal government. U.S. judges are appointed by the president and confirmed by the Senate. Congress also determines the pay scale of judges.