Approaches toward world peace
In the same month that the Berlin wall went up, the Soviet Union outraged world opinion by announcing that it would resume atmospheric tests of nuclear weapons. This declaration abruptly ended the voluntary moratorium on testing initiated almost three years earlier by the Soviet Union, Great Britain and the United States. The following day, September 1, the Soviet Union began a series of nuclear test explosions in the atmosphere which yielded large amounts of radioactive fallout and aroused worldwide fears of genetic damage to future generations. The speed with which these estimated 50 nuclear explosions were conducted revealed that the Soviet Union had been planning them secretly for many months, a period during which it claimed to be negotiating in good faith with the United States and Great Britain for a permanent test ban treaty.
Even after the Soviet tests, President Kennedy urged the Soviet Union to sign an agreement providing for international inspection to assure a ban on all future tests. This offer was rejected and the United States reluctantly declared that it had no alternative but to resume tests in the atmosphere to maintain its capacity to retaliate decisively against an enemy nuclear attack. However, the American government showed its continued determination to work for an end to the arms race by creating a special Arms Control and Disarmament Agency, and assiduously pursuing its efforts to obtain a treaty.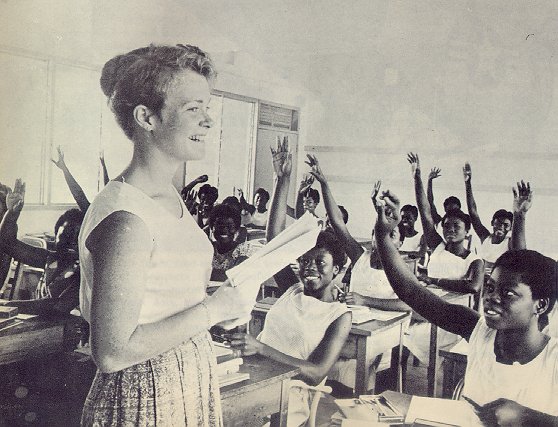 An american Peace Corps teacher gains an eager response from her students in a classroom in Ghana
In the midst of this uneasy international scene, hundreds of idealistic young Americans volunteered to work abroad in newly developing countries as nurses, surveyors, teachers, sanitation specialists, mechanics and farm aides. These members of the Peace Corps, a project initiated by President Kennedy in March 1961, lived and worked with ordinary citizens in Africa, Asia and Latin America. Their purpose was to serve people less privileged than themselves and to express the bonds of brotherhood that unite all peoples. At the end of the program's first year, 32 countries had requested Peace Corps volunteers, and Congress voted funds to increase the Corps to 10,000 members.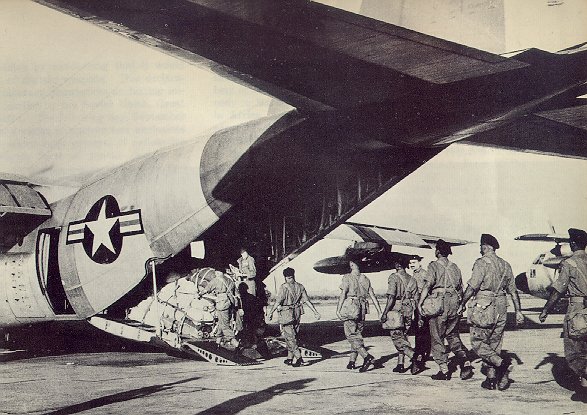 A United States plane loads United Nations Indian Medical Corpsmen and supplies to maintain normal health services in the Republic of the Congo
The great popularity of the Peace Corps among Americans reflected the resurgence of an adventurous idealism that has deep roots in American history, from the early days of colonization and the American Revolution to the settlement of the frontier and the welcome afforded to millions of immigrants from many lands. This trait was currently evident on university campuses where students were increasingly concerned and vocal about the problems of war and peace, nuclear policy, the United Mations, and civil rights rather than with narrow scholastic isgues. It pervaded the arts of fiction, drama, music, painting, dance, architecture, film and television, where new and original talents emerged in unprecedented abundance. It was visible in the theoretical and practical achievements of American science, technology and industry. And it explained the readiness of American political leaders to seek new ways of achieving world peace and combating poverty and injustice at home and abroad.