Kennedy acts on domestic front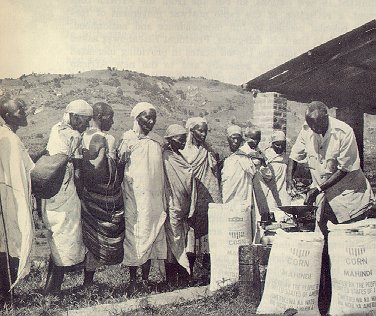 United States aid goes to people all over the world.
It has provided thousands of millions of dollars to
promote human welfare and restore economic health.
Against this background of world tensions, the American people elected a new president in November 1960. Former Senator John F. Kennedy won by a narrow margin over his Republican opponent, Vice-President >Richard M. Nixon. The two youthful presidential aspirants established a precedent by appearing together on television in a series of debates. Nixon emphasized the experience he had gained during his eight years in the Eisenhower administration and reminded voters of the "peace and prosperity" achieved, under Republican leadership. Kennedy called for new, forward-looking leadership and for a more effective use of the country's human and economic resources.
In his inauguration speech President Kennedy, the youngest President ever elected, set the tone of youthful energy and dedication that was to mark his administration. "The torch has been passed," he said, "to a new generation of Americans." And indeed his Cabinet and his White House advisors made up the youngest group of top level officials in the country's history. It was also a group notable for its openness to new ideas and its readiness to take vigorous action.
The country's economy, as President Kennedy assumed office, was generally prosperous, with the average industrial worker's wage at the all-time high of $95 a week. But unemployment was also high, especially in areas such as the coal-mining regions of Pennsylvania and West Virginia, which had been seriously affected by the competition of new products and by changes in American living patterns. To remedy this situation the new administration successfully urged the passage of the Area Development Act, which gave the federal government power to help distressed communities start new industries and build needed public facilities. Another law provided retraining, with pay, for workers who were unemployed or in low-paying jobs because they lacked training in skills that industry needed. In addition, states were given emergency authority to extend unemployment insurance payments for 13 weeks beyond the standard 26-week period.
Other legislation aimed at improving the lot of Americans generally. The social security system was liberalized so that a person could start receiving his retirement pension at age 62 instead of having to wait until he was 65. The minimum wage was raised from $1 to $1.25 an hour. Congress also passed a broad housing program to help elderly people and families with low or moderate incomes find homes at reasonable cost.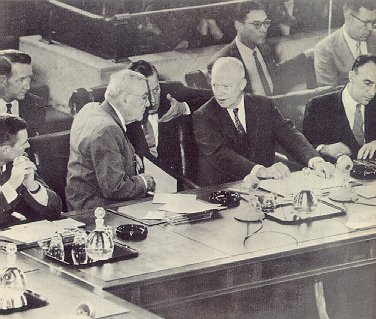 At the 1955 Geneva "Summit Conference" on disarmament and
relief of tensions President Eisenhower (second from right) proposed
mutual aerial inspection, a plan rejected by the Soviet leaders.
Second from left is Secretary of State John Foster Dulles
Significant advances were made toward the elimination of racial discrimination where it still existed. In the fall of 1961, forty-one additional school districts in the South admitted Negro students to formerly all-white schools, bringing to 897 the number of school districts integrated since the Supreme Court ruling of 1954. Peaceful "sit-ins" by Negro and white students, starting in February 1960, had successfully ended segregation in restaurants and at lunch counters in more than 200 southern communities. These were followed in 1961 by "freedom rides," the name given to orderly, non-violent protests against segregation in bus transportation and terminal facilities. In November 1961, the Interstate Commerce Commission issued a ruling banning segregation in all interstate travel. The following year the U.S. Supreme Court unanimously endorsed this ban, stating: "We have settled beyond question that no state shall require racial segregation of interstate and intrastate transportation facilities."
The Kennedy administration further advanced the cause of racial equality by appointing a large number of eminent Negroes to high government posts. Robert C. Weaver became head of the Federal Housing and Home Finance Agency; Thurgood Marshall, formerly chief counsel of the National Association for the Advancement of Colored People, was made a federal judge; and dozens of other Negro Americans were appointed to positions ranging from presidential assistant to ambassador. With more than 220,000 Negro students attending institutions of higher learning in 1962, there was reason to believe that the trend toward better jobs and more influential roles in government for Negroes would be accelerated.