William Jefferson Clinton (1946 - )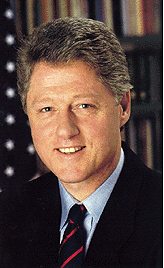 Bill Clinton was born William Jefferson Blythe III on August 19, 1946, in Hope, Arkansas. His father, an automobile-parts salesman, died in a car accident three months before Bill was born. His mother, Virginia Cassidy, married Roger Clinton, an automobile dealer, when Bill was seven years old. The family moved to Hot Springs, Arkansas, where Bill and his younger half brother, Roger, Jr., attended public schools. His mother often engaged Bill in political discussions and encouraged his ambitions. Growing up had its difficulties, however, because his stepfather was an alcoholic who sometimes beat his mother. Virginia and Roger eventually divorced but soon remarried, when Bill was 15. As a gesture Bill had his last name legally changed to Clinton.
Bill participated in many activities, including student government, at Hot Springs High School. In the summer of 1963 he was chosen to attend the American Legion Boys State, a government and leadership conference, in Little Rock, Arkansas. He was elected a senator and given the opportunity to go to Washington, D.C. where he shook hands with President John F. Kennedy. When Bill returned to Arkansas, politics became a pursuit from which he never wavered.
After high school, Clinton went to Georgetown University. While pursuing a Bachelor of Arts degree in International Studies he worked for Democratic Senator William Fulbright of Arkansas, the chairman of the Senate Foreign Relations Committee, who became an outspoken opponent of the Vietnam War. Clinton's own opposition to the war grew as he attended hearings and clipped newspapers.
Like his mentor, Fulbright, Clinton won a Rhodes scholarship to Oxford University. During his two years at Oxford Clinton's opposition to the Vietnam War came into conflict with his political aspirations. When he received a draft notice in 1969 he enrolled in the Army Reserve Officers Training Corps (ROTC) at the University of Arkansas Law School. He made himself available for the draft but was never called up because he received a high number in the draft lottery held that year.
In the fall of 1970 Clinton entered Yale Law School. While at Yale Clinton met Hillary Rodham, a Wellesley College graduate from suburban Chicago. Together they worked for George McGovern's presidential campaign in Texas during the summer and fall of 1972. The following year they graduated from law school. Clinton worked briefly in Washington, D.C., as a staff attorney for the House Judiciary Committee but soon moved back to Arkansas.
In 1974, Clinton entered his first political race. He felt that Republican Congressman John Paul Hammerschmidt, a strong supporter of President Nixon, was vulnerable in his reelection bid, and therefore decided to run against him. Clinton lost a surprisingly close race, holding Hammerschmidt to only 52 percent of the vote.
Clinton married Hillary Rodham in 1975. A year later he was elected Arkansas's attorney general. In 1978 Clinton decided to run for governor of Arkansas. He won the election against Republican State Chairman A. Lynn Lowe, receiving 63 percent of the vote to Lowe's 37 percent.
In an attempt to move Arkansas up from the bottom of the indexes of social and economic welfare he made economic growth and educational improvement top priorities of his administration. His administration was also noteworthy in Arkansas history for appointing women and minorities to cabinet-level jobs. Nevertheless, during his two-year term Clinton angered many voters. In 1980, the same year as daughter Chelsea was born, his reelection chances were damaged further by his handling of the Cuban refugee situation. Thousands of Cubans who had left or been expelled from their country were housed in Arkansas, and Clinton was unable to force the White House to make other states share the problems and costs of the operation. That November he was defeated by Republican Frank White, a political newcomer and businessman.
After this defeat, Clinton began to work for a law firm, but many observers believed that his political career was far from over. In 1982 he made a succesful bid to return to the governor's mansion; a residency he did not give up until he entered the White House in 1993.
On October 3, 1991, Clinton announced that he was a candidate for the presidency. His campaign was nearly sunk by charges of marital infidelity, published in tabloid newspapers, and of unethical conduct in legally avoiding the draft during the Vietnam War. The nickname "Slick Willie", given to him by an Arkansas journalist, was used by those critical of him. He survived, however, and on June 2, 1992, primary victories in six states gave him the necessary number of convention delegates. Shortly before the party convention in July Clinton chose Tennessee Senator Albert A. Gore, Jr., as his running mate.
The Democratic National Convention was held in New York City in mid-July. As soon as the convention was over Clinton and Gore headed west for a series of campaign bus trips reminiscent of the whistle-stop train trips of decades before. The strategy of identifying with middle-class America and emphasizing concern for jobs and health care paid off. On Tuesday, November 3, Clinton was elected president, and he took office on January 20, 1993. At the age of 46, he was one of the youngest men ever, and the first Democrat since the 1976 election, to be elected to the nation's highest office.
Clinton entered office with a wide-ranging agenda. He immediately appointed his wife to head a task force to deal with health-care reform to try to make health care available for all. By cutting federal spending, creating millions of new jobs, and reducing the deficit, he wanted to restore economic opportunity and security. And in order to make communities and schools more secure he enacted the Assault Weapons Ban as part of the Crime Bill.
In foreign policy, he failed to get a European consensus for action in the Bosnian civil war. However, he did help Israel and Jordan achieve an historic peace treaty and assisted in the creation of an accord between Israel and the Palestinians. Furthermore, he contributed to the cease-fire in Northern Ireland.