Ronald Wilson Reagan (1911-2004) Biography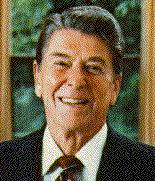 Ronald Wilson Reagan was born in Tampico, Illinois (about 100 miles -160 kilometers- West of Chicago) on February 8th, 1911. He grew up in nearby Dixon. He was the son of Jack, a shoe salesman and Nelle Reagan. His mother was the one that interested Ronald, or "Dutch" (a nickname given to him by his father), in acting.
Ronald Reagan attended Eureka College from the fall of 1928 until his graduation in 1932. The religiously affiliated Eureka College granted Reagan a scholarship for needy students that provided for half the tuition and a job so he could pay for his meals. Reagan's first job after college was at WOC station in Davenport, Iowa as a radio announcer. He then went on to become a sports announcer at WHO station in Des Moines. In 1937 he did a screen test at Warner Brothers and for four years played in so called B-films. In 1940, Reagan married Jane Wyman, an actress.
He continued to play in movies until he joined the army shortly after the USA got involved in World War II. He served at the Army Air Corps film unit making army morale films. In 1949, when Jane Wyman's career was flourishing while Reagan's career had somewhat stagnated, Wyman divorced Reagan and got custody of the couples two young children; Michael, their adopted son, and their daughter Maureen.
Meanwhile Reagan was involved in the SAG (Screen Actors Guild) and was the organization's president from 1947 till 1952. In 1952 Reagan married again, this time to Nancy Davis. They had two children together, Patricia and Ronald Jr. Two years later, in 1954, General Electric offered Reagan a job hosting the company's weekly television series and delivering corporate speeches. In 1962 his employment at General Electric was abruptly ended by the company and Reagan returned to playing television and film roles.
In 1967 Reagan became governor of California, he was re-elected in 1970 but decided not to run for a third term in 1975. Reagan had been in the speech circuit prior to being a governor and he returned there now until he became the republican presidential candidate in 1980. He tried earlier to become the republican candidate, but lost to Nixon and Ford. In 1980 however, he not only became the republican candidate, but also won the elections beating Jimmy Carter with only a 9% margin in the popular vote and 489 electoral votes against Carter's 49. In 1984 he was re-elected, this time beating Walter Mondale with a 18% margin in popular vote and 525 electoral votes against 13. In 1989 he was succeeded by George Bush.
On June 5th 2004 former president Ronald Reagan died of Alzheimer's disease. There was a state burial ceremony in Washington DC after which he was buried in California.