Colonies Gain Victory And Freedom
From the time the Declaration of Independence was signed, France had not been neutral. The government had been eager for reprisal against England ever since the defeat of France in 1763. Moreover, enthusiasm for the American cause was high: the French intellectual world was itself in revolt against feudalism and privilege. Still, though France had welcomed Benjamin Franklin to the French court and had given the United States aid in the form of munitions and supplies, it had been reluctant to risk direct intervention and open war with England.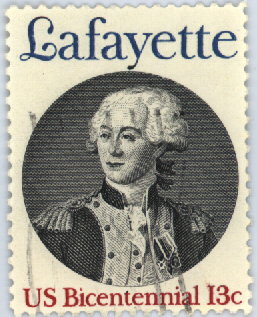 After Burgoyne's surrender, however, Franklin was able to secure treaties of commerce and alliance. Even before this, many French volunteers had sailed to America. The most prominent among them was the Marquis de Lafayette, a young army officer, who, in the winter of 1779-80, went to Versailles and persuaded his government to make a real effort to bring the war to an end. Soon afterward, Louis XVI sent to America an expeditionary force of 6,000 men under the Comte de Rochambeau. In addition, the French fleet aggravated the difficulties the British were having in supplying and reinforcing their forces, and Frenchmen joined with American blockade runners in inflicting severe losses on British commerce.
In 1778, the British were forced to evacuate Philadelphia because of threatened action by the French fleet. During the same year, in the Ohio Valley, they suffered a series of setbacks which assured American domination of the northwest. Nevertheless, the British continued to press the war in the south. Early in 1780 they captured Charleston, the principal southern seaport, and overran the Carolina country. The following year they made an effort to conquer Virginia. But the French fleet, which temporarily gained control of American coastal waters that summer, ferried Washington's and Rochambeau's troops in boats down Chesapeake Bay. Their combined armies, totaling 15,000 men, penned in Lord Cornwallis' army of 8,000 at Yorktown on the Virginia coast. On October 19, 1781, Cornwallis surrendered.
When the news of the American victory at Yorktown reached Europe, the House of Commons voted to end the war. Peace negotiations began in April 1782 and continued through November, when preliminary treaties were signed. These were not to take effect until France concluded peace with Great Britain. In 1783, they were signed as final and definitive. The peace settlement acknowledged the independence, freedom, and sovereignty of the 13 states, to which it granted the much coveted territory west to the Mississippi, and set the northern boundary of the nation nearly as it runs now. The Congress was to recommend to the states that they restore the confiscated property of the loyalists.