William Howard Taft Biography
William Howard Taft, a scion of a long-prominent family, was born in Cincinnati on September 15, 1857. His father, Alphonso Taft, had a distinguished career in law and foreign service. Alphonso Taft was a state judge from 1865-72, U.S. Secretary of War in 1876 (a position his son would later hold), U.S. Attorney General from 1876-77, Minister to Austria-Hungary from 1882-1884, and Minister to Russia from 1884-1885.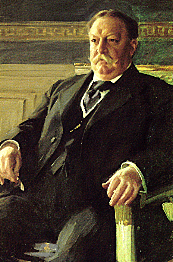 Young Taft attended Woodward High School in Cincinnati, finishing second in his class. He followed family tradition and went to Yale, again finishing as salutatorian-he was nothing if not consistent. He then returned to Cincinnati and received his law degree from The Cincinnati Law School, which would later merge with the University of Cincinnati.
William Howard Taft's first public office was as Assistant Hamilton County Prosecutor, in 1881. Then, at age 30, he served as judge on the Superior Court in Cincinnati for three years, before being appointed Solicitor General of the United States in 1890.
Continuing his meteoric rise in the legal profession, Taft was appointed by President Benjamin Harrison as a judge of the newly created Sixth U.S. Circuit Court of Appeals in Cincinnati, at age 34. He served on that court from 1892-1900. At the same time, he also served as the first Dean of the University of Cincinnati College of Law (after the merger of The Cincinnati Law School with the university). In his judicial career, he was known for the quality of his opinions and for his diligence. He found great satisfaction in the "writing up" of appellate decisions. His ability to marshal detail into a coherent whole served him well in appellate work.
Taft contributed to the legal profession in Cincinnati in many other ways. For instance, when he was a young lawyer of twenty-eight, he was in charge of rebuilding the collection of books for the county law library, which had lost all but one volume in the courthouse riot and fire of 1884.
William Howard Taft would have been happy to serve out his career in the judiciary, but his wife, Helen Herron (Nellie) Taft, and perhaps history, had other plans.
Taft was persuaded by his wife to accept appointment by President William McKinley as chief administrator in the Philippines. His charge was to transfer government from military to civilian rule. He served as civil governor there from 1901-1904. Taft was widely praised for his work in the Philippines, in sponsoring land reform, road building, and honest and efficient government. In the Philippines, Taft demonstrated that his talent as an administrator was equal to his prowess as a jurist.
After McKinley's assassination in 1901, Theodore Roosevelt assumed the presidency. Roosevelt recognized Taft's extraordinary abilities by naming him Secretary of War in 1904. One primary assignment was to supervise the building of the Panama Canal, the greatest engineering project yet attempted. Taft's grasp of detail served him well. He received praise for his able administration of the War Department, and became somewhat of a darling of the press, a situation that would later reverse.
Teddy Roosevelt and Big Bill Taft became good friends, and Roosevelt, who had made a pledge (which he later regretted) not to run again in 1908, picked Taft as his successor. Taft promised to carry out the "trust busting" and other progressive policies of the Roosevelt administration. With the popular Roosevelt's strong support, he trounced Democratic Party candidate William Jennings Bryan to become the twenty-seventh President of the United States.
But Taft's honeymoon period in the presidency was brief. The Republican Party was bitterly divided between the western progressives, who hoped that Roosevelt's reforms were just a beginning, and the eastern conservatives, who thought Roosevelt had gone too far.
President Taft, for all his administrative talent, lacked the political savvy to unite, or at least mediate between, the two factions. His presidency drifted, and became mired in the troubles within his own party-troubles not of his making, but beyond his ability to solve.
Progressives, livid at his defense of the Payne-Aldrich Tariff Act, failed to credit him with bringing more "trust busting" cases than Roosevelt (Standard Oil was dissolved in 1911), instituting an eight-hour day for federal employees, and supporting the Sixteenth Amendment, allowing the income tax (ratified in 1913).
The previous friendship with Roosevelt fell apart, amid perceived snubs and misunderstandings on both sides. The families had never liked each other, even during the good times between the two men. And the friendship had been more political than personal. The men were such different personalities that a true intimate friendship would have been difficult-Roosevelt the brash "big picture" thinker, and Taft the affable but reserved detail person. Ultimately, Roosevelt, having given Taft the presidency, believed it was his to reclaim.
The progressives wanted Teddy Roosevelt back in the White House. When the Republican convention of 1912, controlled by the conservatives, renominated Taft, they bolted and formed the Progressive, or "Bull Moose" Party, to support Roosevelt.
Once Roosevelt was on the ballot, Taft was doomed. Though Roosevelt and Taft together outpolled the Democratic candidate, Woodrow Wilson, by over a million votes, the spilt gave an overwhelming Electoral College victory to Wilson. Taft came in third, carrying only two states (Vermont and Utah).
Taft's presidency is remembered as honest, civilized, and middle-of-the-road. The latter was its downfall. Aside from the achievements mentioned above, a few notable facts from the Taft administration are that he had the first presidential automobile and the largest bathtub. (Taft was a large man -our biggest president- standing 6'4" and weighing more than 300 pounds.) He began the presidential tradition of throwing out the first pitch of the baseball year at the season opener between the Washington Senators and the Philadelphia Athletics on April 14, 1910. His wife, first lady Helen Herron Taft, was responsible for the Japanese cherry trees in Washington D.C., planting the first saplings (out of 3,000) with the Japanese ambassador's wife.
After the Presidency, Taft went back to his first love, the law -first as a professor of law at Yale. He taught law for eight years, and was then nominated by President Warren Harding to be the ninth Chief Justice of the United States. The Senate confirmed him the same day-certainly a contrast with today's often-grueling confirmation process. He was the only person in history to be both President and Chief Justice. Upon his elevation to Chief Justice, he proclaimed: "I don't remember that I was ever President."
As Chief Justice, Taft's tenure was marked by hard work and by efforts for judicial reform. Taft was concerned about the delay and inefficiency in the federal court system. His first task was to secure the passage of The Judges Act in 1922. The act was the first major reform of the federal judiciary since 1789. It gave the Chief Justice more power over the federal courts-Taft used it to reduce delay and streamline operations.
Most legal scholars rate Taft as a good, if conservative, Chief Justice. He would usually side with "property rights" over labor and government power over civil rights. These views were generally shared by his colleagues on the court at the time, with the notable exceptions of Oliver Wendell Holmes, Jr., and Louis D. Brandeis, who often dissented.
The most visible legacy of Taft's Chief Justiceship is the Supreme Court Building, for which he lobbied. Prior to having its own building, the Supreme Court heard arguments in the Capitol, and the justices, having no offices, worked from their homes. The new structure, complete with offices, was completed after Taft's death.
Taft served as Chief Justice from 1921-30, retiring shortly before his death in March 1930. Strangely enough, he is one of only two Presidents buried at Arlington Cemetery. (The other is John F. Kennedy.)
The Taft legacy of public service continues to this day. William Howard and Nellie's son, Robert A. Taft, "Mr. Republican," became a U.S. Senator from Ohio, and thrice sought the Republican nomination for President. Another son, Charles P. Taft II, was mayor of Cincinnati. Robert A.'s son, Robert Taft, Jr., served in the U.S. House of Representatives and then the Senate. William Howard's great-grandson, Robert A. Taft II, was elected Governor of Ohio in 1998.