The Letters of Thomas Jefferson 1743-1826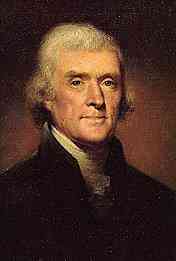 This is not a complete collection of all the letters written by Thomas Jefferson.
Text marked with an * are not an integral part of this project due to copyright reasons. Most of these refer to the excellent
Electronic Textcenter of University of Virginia
.
Chronological Index
1760 - 1761 - 1762 - 1763 - 1764 - 1765 - 1766 - 1767 - 1768 - 1769 - 1770 - 1771 - 1772 - 1773 - 1774 - 1775 - 1776 - 1777 - 1778 - 1779 - 1780 - 1781 - 1782 - 1783 - 1784 - 1785 - 1786 - 1787 - 1788 - 1789 - 1790 - 1791 - 1792 - 1793 - 1794 - 1795 - 1796 - 1797 - 1798 - 1799 - 1800 - 1801 - 1802 - 1803 - 1804 - 1805 - 1806 - 1807 - 1808 - 1809 - 1810 - 1811 - 1812 - 1813 - 1814 - 1815 - 1816 - 1817 - 1818 - 1819 - 1820 - 1821 - 1822 - 1823 - 1824 - 1825 - 1826
1760

SYLLABUS OF AN ESTIMATE OF THE MERIT OF THE DOCTRINES OF JESUS, COMPARED WITH THOSE OF OTHERS (enclosure of previous letter),April, 1803
* To Dr. Thomas Cooper, 1817

1818

* To James Breckenridge, Robert Taylor, James Madison, & Chapman Johnson, Monticello July 8.[-26] 1819
* To James Madison, James Breckenridge, Joseph Carrington Cabell, Chapman Johnson, & John Hartwell Cocke, 12 March 1823