Edgar Lee Masters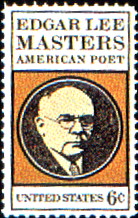 By the turn of the century, Chicago had become a great city, home of innovative architecture and cosmopolitan art collections. Chicago was also the home of Harriet Monroe's
Poetry
, the most important literary magazine of the day.
Among the intriguing contemporary poets the journal printed was Edgar Lee Masters, author of the daring Spoon River Anthology (1915), with its new "unpoetic" colloquial style, frank presentation of sex, critical view of village life, and intensely imagined inner lives of ordinary people.
Spoon River Anthology is a collection of portraits presented as colloquial epitaphs (words found inscribed on gravestones) summing up the lives of individual villagers as if in their own words. It presents a panorama of a country village through its cemetery: 250 people buried there speak, revealing their deepest secrets. Many of the people are related; members of about 20 families speak of their failures and dreams in free-verse monologues that are surprisingly modern.