Harriet Beecher Stowe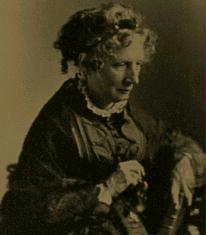 Harriet Beecher Stowe's novel
Uncle Tom's Cabin; or, Life Among the Lowly
was the most popular American book of the 19th century. First published serially in the
National Era
magazine (1851- 1852), it was an immediate success. Forty different publishers printed it in England alone, and it was quickly translated into 20 languages, receiving the praise of such authors as Georges Sand in France, Heinrich Heine in Germany, and Ivan Turgenev in Russia. Its passionate appeal for an end to slavery in the United States inflamed the debate that, within a decade, led to the U.S. Civil War (1861-1865).
Reasons for the success of Uncle Tom's Cabin are obvious. It reflected the idea that slavery in the United States, the nation that purportedly embodied democracy and equality for all, was an injustice of colossal proportions.
Stowe herself was a perfect representative of old New England Puritan stock. Her father, brother, and husband all were well- known, learned Protestant clergymen and reformers. Stowe conceived the idea of the novel -- in a vision of an old, ragged slave being beaten -- as she participated in a church service. Later, she said that the novel was inspired and "written by God." Her motive was the religious passion to reform life by making it more godly. The Romantic period had ushered in an era of feeling: The virtues of family and love reigned supreme. Stowe's novel attacked slavery precisely because it violated domestic values.
Uncle Tom, the slave and central character, is a true Christian martyr who labors to convert his kind master, St. Clare, prays for St. Clare's soul as he dies, and is killed defending slave women. Slavery is depicted as evil not for political or philosophical reasons but mainly because it divides families, destroys normal parental love, and is inherently un-Christian. The most touching scenes show an agonized slave mother unable to help her screaming child and a father sold away from his family. These were crimes against the sanctity of domestic love.
Stowe's novel was not originally intended as an attack on the South; in fact, Stowe had visited the South, liked southerners, and portrayed them kindly. Southern slaveowners are good masters and treat Tom well. St. Clare personally abhors slavery and intends to free all of his slaves. The evil master Simon Legree, on the other hand, is a nrtherner and the villain. Ironically, the novel was meant to reconcile the North and South, which were drifting toward the Civil War a decade away. Ultimately, though, the book was used by abolitionists and others as a polemic against the South.