Robert Frost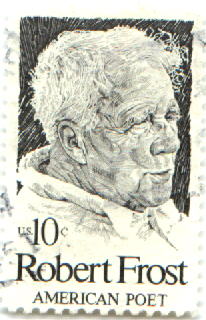 Robert Lee Frost was born in California but raised on a farm in the northeastern United States until the age of 10. Like
Eliot
and
Pound
, he went to England, attracted by new movements in poetry there. A charismatic public reader, he was renowned for his tours. He read an original work at the inauguration of President John F. Kennedy in 1961 that helped spark a national interest in poetry. His popularity is easy to explain: He wrote of traditional farm life, appealing to a nostalgia for the old ways. His subjects are universal -- apple picking, stone walls, fences, country roads. Frost's approach was lucid and accessible: He rarely employed pedantic allusions or ellipses. His frequent use of rhyme also appealed to the general audience.
Frost's work is often deceptively simple. Many poems suggest a deeper meaning. For example, a quiet snowy evening by an almost hypnotic rhyme scheme may suggest the not entirely unwelcome approach of death. From: "Stopping by Woods on a Snowy Evening" (1923):
Whose woods these are I think I know.
His house is in the village, though;
He will not see me stopping here
To watch his woods fill up with snow.

My little horse must think it queer
To stop without a farmhouse near
Between the woods and frozen lake
The darkest evening of the year.

He gives his harness bells a shake
To ask if there is some mistake.
The only other sound's the sweep
Of easy wind and downy flake.

The woods are lovely, dark and deep,
But I have promises to keep,
And miles to go before I sleep,
And miles to go before I sleep.