Jack London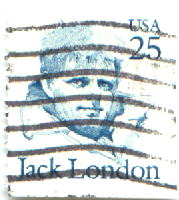 A poor, self-taught worker from California, the naturalist Jack London was catapulted from poverty to fame by his first collection of stories,
The Son of the Wolf
(1900), set largely in the Klondike region of Alaska and the Canadian Yukon. Other of his best-sellers, including
The Call of the Wild
(1903) and
The Sea-Wolf
(1904) made him the highest paid writer in the United States of his time.
The autobiographical novel Martin Eden (1909) depicts the inner stresses of the American dream as London experienced them during his meteoric rise from obscure poverty to wealth and fame. Eden, an impoverished but intelligent and hardworking sailor and laborer, is determined to become a writer. Eventually, his writing makes him rich and well-known, but Eden realizes that the woman he loves cares only for his money and fame. His despair over her inability to love causes him to lose faith in human nature. He also suffers from class alienation, for he no longer belongs to the working class, while he rejects the materialistic values of the wealthy whom he worked so hard to join. He sails for the South Pacific and commits suicide by jumping into the sea. Like many of the best novels of its time, Martin Eden is an unsuccess story. It looks ahead to F. Scott Fitzgerald's The Great Gatsby in its revelation of despair amid great wealth.