Stephen Crane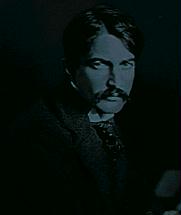 Stephen Crane, born in New Jersey, had roots going back to Revolutionary War soldiers, clergymen, sheriffs, judges, and farmers who had lived a century earlier. Primarily a journalist who also wrote fiction, essays, poetry, and plays, Crane saw life at its rawest, in slums and on battlefields. His short stories -- in particular, "The Open Boat," "The Blue Hotel," and "The Bride Comes to Yellow Sky" -- exemplified that literary form. His haunting Civil War novel,
The Red Badge of Courage
, was published to great acclaim in 1895, but he barely had time to bask in the attention before he died, at 29, having neglected his health. He was virtually forgotten during the first two decades of the 20th century, but was resurrected through a laudatory biography by Thomas Beer in 1923. He has enjoyed continued success ever since -- as a champion of the common man, a realist, and a symbolist.
Crane's Maggie: A Girl of the Streets (1893) is one of the best, if not the earliest, naturalistic American novels. It is the harrowing story of a poor, sensitive young girl whose uneducated, alcoholic parents utterly fail her. In love and eager to escape her violent home life, she allows herself to be seduced into living with a young man, who soon deserts her. When her self-righteous mother rejects her, Maggie becomes a prostitute to survive, but soon commits suicide out of despair. Crane's earthy subject matter and his objective, scientific style, devoid of moralizing, earmark Maggie as a naturalist work.