William Faulkner
Born to an old southern family, William Harrison Faulkner was raised in Oxford, Mississippi, where he lived most of his life. Faulkner created an entire imaginative landscape, Yoknapatawpha County, mentioned in numerous novels, along with several families with interconnections extending back for generations. Yoknapatawpha County, with its capital, "Jefferson," is closely modeled on Oxford, Mississippi, and its surroundings. Faulkner re-creates the history of the land and the various races -- Indian, African-American, Euro-American, and various mixtures -- who have lived on it. An innovative writer, Faulkner experimented brilliantly with narrative chronology, different points of view and voices (including those of outcasts, children, and illiterates), and a rich and demanding baroque style built of extremely long sentences full of complicated subordinate parts.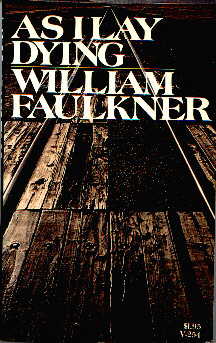 The best of Faulkner's novels include The Sound and the Fury (1929) and As I Lay Dying (1930), two modernist works experimenting with viewpoint and voice to probe southern families under the stress of losing a family member; Light in August (1932), about complex and violent relations between a white woman and a black man; and Absalom, Absalom! (1936), perhaps his finest, about the rise of a self-made plantation owner and his tragic fall through racial prejudice and a failure to love.
Most of these novels use different characters to tell parts of the story and demonstrate how meaning resides in the manner of telling, as much as in the subject at hand. The use of various viewpoints makes Faulkner more self-referential, or "reflexive," than Hemingway or Fitzgerald; each novel reflects upon itself, while it simultaneously unfolds a story of universal interest. Faulkner's themes are southern tradition, family, community, the land, history and the past, race, and the passions of ambition and love. He also created three novels focusing on the rise of a degenerate family, the Snopes clan: The Hamlet (1940), The Town (1957), and The Mansion (1959).